Asian girls have always had hair that is enviable, no matter how they opt to style it and how they shade it, like now we have been seeing blonde Asians frequently on the streets. The background of Asian hair styling is still an intriguing story that has a millennia past. Ancient Chinese ladies had many different hairstyles which weren't merely sophisticated hairstyles. The manner a lady wore hair stated a whole lot about her lifestyle and background. Ladies who are still single, for instance will wear their hair in down style or tied them up in braids.
When a lady has come of her age, her hair will be normally pinned up with an elegant up-style, combed into a twist, and then held firmly by ornament pins. But for several decades, the Asians maintained their hair long and black, as it was intended naturally. And after that, as contemporary hair styling methods became popular, Asian ladies started to cut their locks and wore their shorter hair, occasionally going as short as a bob haircut.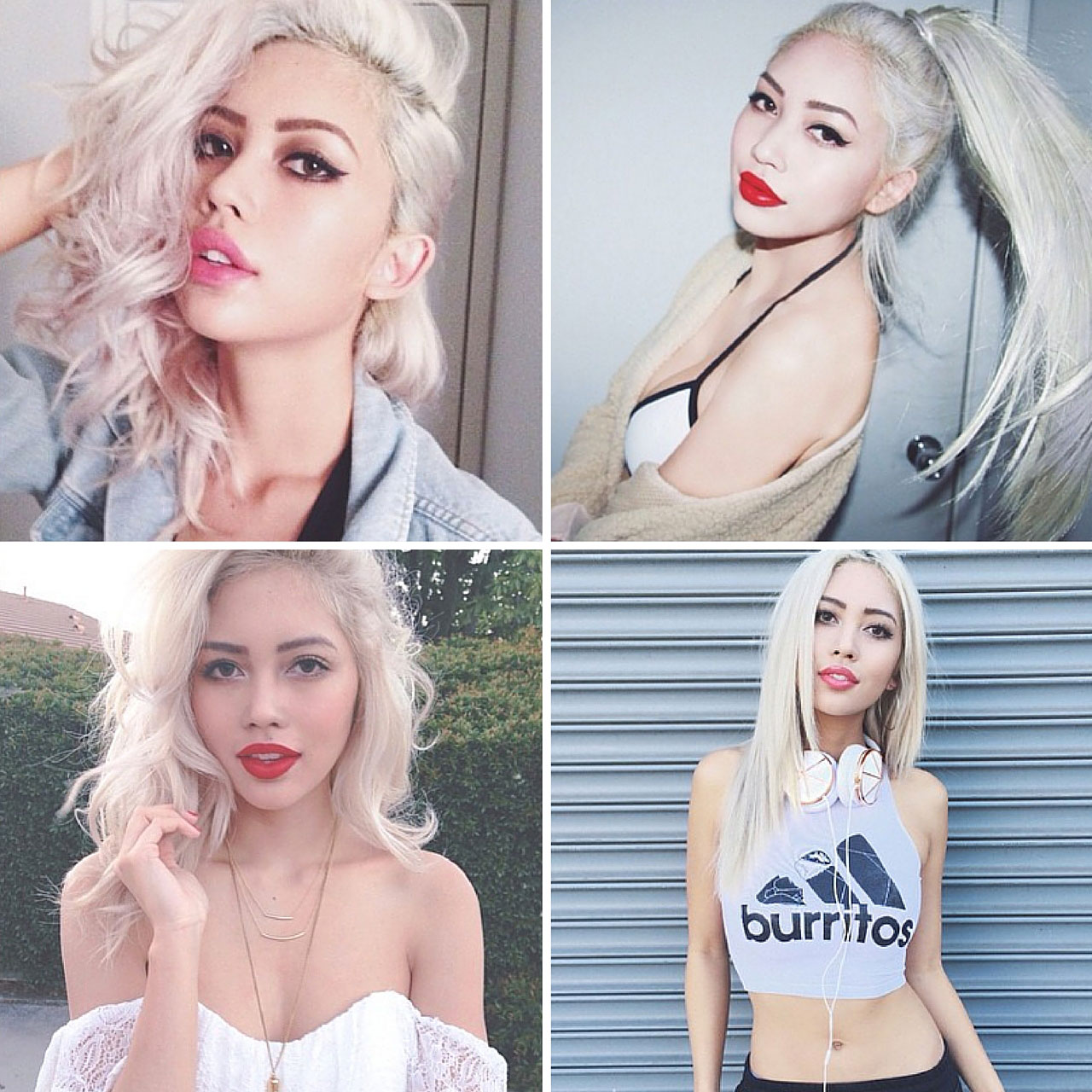 Next came the hair colours, which the ladies in Asia chose to like moths to a flame. Since the experimentation climbed, more hair colours such as deep brown as well as fiery reddish made their way to the favored options of Asian ladies. The latest favourite hair colour on the list is blonde. This luminous sun like hair colour is quickly becoming the favorite of several girls in the world, and it is no surprise that you are seeing a growing quantity of blonde Asian girls every day.
If you are an Asian contemplating getting a blonde transformation, or in case you've already had one and you require some hair maintenance suggestions, this article will inform you all that you want to understand. Let us share with you some suggestions to consider before bleaching and colouring Asian hair blonde and find out what a few of the best blonde dyes available on the market.
Normally, the procedure for bleaching ordinary Asian hair (that is normally dark) to a blonde mane takes at least 2 dyeing sessions. This provides your hair sufficient time to maneuver out of the normal dark colours to light orange or brown shades, then from there to blonde. Before we enter the facts of the procedure, let us list out all of the things you will need to get a few successful hair bleaching sessions, that will result in you emerging with stunning Asian blonde hair.
Individual client needs may vary, however here are a couple of the very crucial items and components required for a fantastic bleaching procedure.
As many hair clips as you can get, to pin your hair up in bunches
Bleach powder as required
Volume developer of grade 30 or 40 (ideally, about twice the quantity of bleach powder)
A couple of plastic bowls for mixing the primary ingredients
A good hair toner
Some Vaseline and a pair of gloves
A brush to apply the hair dye
Aluminum foil
A face mask if you need one to keep the dye off your face
Bleaching Asian Hair–Session One
This objective of this session is to lighten your dark hair and brings you one step nearer to your dream of having an Asian blonde hair.
Mix the bleach along with the volume developer in the appropriate proportion. Perfectly, for every single part of the bleach powder, then you are going to need two parts of volume developer. Such volume developer of high grades will attain the hair goals quicker, however the trade-off is that it may cause serious damage to your hair. To enable a balance, an even volume developer of about grade 30 is the best.
Separate your hair into as many segments as possible and tie them up with pins. The thinner every segment is, the more complete that it's possible for you to employ the bleach. A thorough application is vital for anybody aspiring to makeover into a Asian with blonde hair.
Start using the mixture from the tips of hair or at the ends of the hair and lightly move upward to the hair roots. Since the hair roots is usually warmer than the tips, moving from the bottom towards the top will ensure that you obtain an even coating of colour.
Maintain the mixture on for sometimes. In the 15-minute markers, wash off the mixture from the hair roots, also in the 35-minute mark, then wash off the blending from the remainder of your hair. Make sure you use cold water since using warm or hot water is only going to make your hair brittle as the bleach may has already done some damage.
As much as possible, let your hair dry naturally and avoid using hair dryer, even those which provide you a gush of colder air. It is ideal to allow your hair to naturally dry out by itself. When it is dried, you will discover that it's an unusual shade of brownish. Worry not, since, in the conclusion of session 2, you will have your trendy, blonde Asian hair prepared to be flaunted.
Bleaching Asian Hair–Session Two
This session helps lightening your brownish hair farther and transforms it into the specific shade of blonde that you desired. Here are the actions you will want to follow in this particular session.
Approximately 2 weeks after your very first session, you will be ready for session 2. The main reason that at least 2 weeks are required in between is as it provides your hair the time to recover and regain any of its own structure and fortification until you layer it with all the next round of dyes. Another trick is to prevent using drying shampoos involving the 2 sessions.
This time round, go right ahead and clip your hair in to sessions as you did earlier. After that, put on the mixture cautiously focusing particularly on areas which you might have missed the previous sessions.
As from the former session, apply from tip to hair root, then leave them on for the proper quantity of time, and then wash away with cold water.
Check to find out whether you've achieve your desirable blonde Asian appearance. In case you haven't, especially when there are darker blotchy patches staying, then you are certainly going to require a second session two months later. Only when you have attained your desired hair colour uniformly, then you can think about switching back into shampooing.
Toning Your Blonde Asian Hair
A toner is a wonderful addition to a hair maintenance that neutralizes coppery yellow and orangey tones on bleached hair and also gives it a much ashy, dusty, or silver colour. The greatest outcome is more natural looking hair. To use toner, follow the directions below.
Select a toner you believe works best for the hair and blending it together with the quantity of volume developer.
Next, put on the mixture as fast as possible. It helps in the event that you've got a few friends who may give you a helping hand on the application part.
Leave for about 15 minutes and then wash off the mixture with cold water.
And then there you have this gorgeous, blonde hair!
There isn't any special reasons why lots of dark-haired Asian ladies are eager to embrace the blonde Asian character. Some women who opt to dye their hair blonde do this since it will help them blend in easily into a foreign nation where light hair is generally the culture. Dyeing their hair into a lighter colour assists them get rid of the anxiety emotions in becoming a continuous foreigner.
Other Asian ladies, however, might have significantly less complicated motives to go blonde. They don't may do it because they enjoy the ideal of getting a radical makeover, or perhaps because they are interested to see whether they can pull it off. No matter the reason could be, it is a superb instance of cultural and ethnic blending. And it is great that more Asian girls are opting to take care of the blonde Asian and therefore are turning their hair lighter, and also just how!
If you are an Asian girl on the brink of the cliff, fearful to jump over into the blond Asian side, here is an advise for you for a radical makeover initially. Try out a lighter shade of brown, or even a mixture of ginger and gold. As soon as you become accustomed to watching yourself using a lighter head of hair, then moving to blonde becomes much simpler.